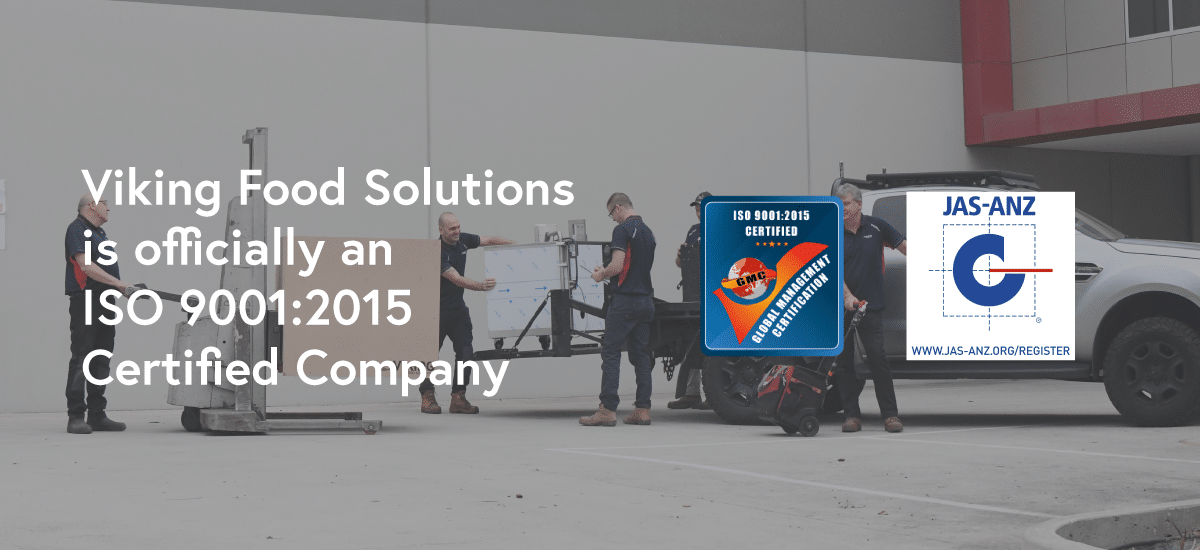 Viking Food Solutions are now ISO 9001:2015 Certified
We are very pleased to announce that Viking Food Solutions is now an ISO9001:2015 certified company!

 
 As a team, Viking Food Solutions is constantly striving to improve our business and provide the best possible service to our customers. To help us continue towards these objectives, Viking recently acquired our ISO 9001 International Certification.
Why we choose ISO 9001 Certification:
ISO 9001 is an international standard, that is used and recognised across the globe. In fact, it's been implemented by over a million companies in 170 countries.
It focuses on drawing out quality in a business, with a strong focus on:
Leadership
Engagement of people
Process approach
Improvement
Evidence-based decision making
Relationship management
But most importantly of all to Viking, it centres around a client focused approach, making sure it's the quality of the end service businesses provide to the customer that really matters.
What this certification means for our customers:
As we have grown, we at Viking wanted to make sure we grew in the right direction, placing an emphasis on continuous improvement and consistent quality.
We wanted to be able to give our customers a better experience each time they partnered with Viking, and live up to our motto of equipping the food industry to grow.
We got ISO 9001 to ensure this, so our customers could have the assurance the Viking has a serious internal focus on quality, throughout every step of the process from purchasing to delivery. This involves both our products and service going through rigorous quality controls.
This Certification means we want to guarantee to you great service and consistent excellence. And assurance that if we do make mistakes, we'll not only fix them but embrace them as opportunities to improve.
Why customers should choose an ISO 9001 supplier:
When a company has been ISO certified this means they have committed to having all areas of the business audited for quality, efficiency, with the end goal of being the best we can.
This creates trust that there are rigorous process and checks in place to ensure you will consistently get what you expect and then some.
Organisations working with ISO 9001 are actively looking for ways they can improve and will encourage customer feedback.
Viking food Solutions committed to a ISO 9001 Quality Management system, not only to better our own business but to make it better for our customers. We want to do everything we can to help out customers grow with us.