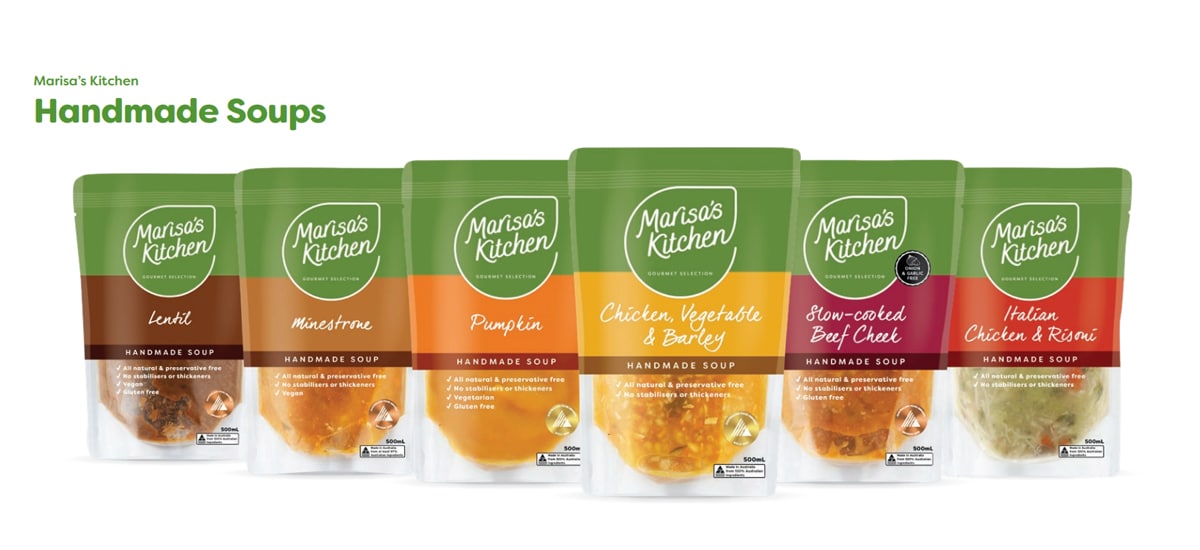 Marisa's Kitchen - from Plain to Premium
It can be daunting to take the plunge and upgrade your packaging. But a high-quality product requires high quality packaging, to showcase and protect it as it deserves.
The Challenge:
Marisa's Kitchen is a boutique producer of gourmet, handmade sauces, soups and dips located in Melbourne.

Like many small-scale producers, they were packing their soups and sauces in plain standup pouches, then manually applying an adhesive label to each pouch.
However, as their production increased, "the hundreds of hours of labour a month was becoming unfeasible" Damian Pannunzio – Production Manager. The excessive convolution of the packaging was causing a bottleneck in the business, resulting in "other aspects of the business having to slow down to allow time to apply the labels to every single pouch".

Finding a better solution fast became a priority.
The Solution:
To find a more streamlined, advanced alternative for their soup packaging, Damian turned to Viking Food Solutions.

After considering the challenges they faced, our team recommended them a fully printed stand-up vacuum pouch.
A fully printed pouch could include all the information on the labels, but would require far less manual work, as well as giving the packaging greater uniformity, durability and shelf appeal.

 

"We have always wanted to have a full printed pouch" says Damian.

What holding them back was "the uncertainty that Covid-19 had on the business", "the financial restraints that come along with setting up printing plates and designs" and challenges of creating printed packaging they could be proud of.
Many businesses struggle to take such a step over similar concerns. However, backed by countless years of experience, Viking were able to sit down and explain the process at length, so that the team at Marisa's Kitchen were confident throughout the entire process from start to finish.

The Result:
Viking partnered with Marisa's Kitchen to help overcome the concerns they had over printed packaging.
Our in-house graphics team helped Marisa's Kitchen to streamline and simplify the design process, using their expertise to create a professional design that would print well onto a stand-up pouch. Damian saying he found it "extremely helpful" that Viking collaborated with their own graphic design company throughout the entire project.
Marisa's found that the investment wasn't as large as they had expected. Overall, the cost of the labels system already in place "was the same as having the pouches printed", yet many times more labor-intensive.
In using Viking's fully printed pouches, not only did Marisa's Kitchen manage to dramatically decrease the amount of manual labour their packaging required without heightening costs, the printed pouches also vastly improved the aesthetic appearance of the pouches on the shelf.
Damian states he was "extremely pleased" with the end result, as the pouches have "been released for only a week we have had a great response from customers and other manufacturers and distributors in the market."
The journey with Marisa's Kitchen doesn't stop there, with the positive feedback from customers and retailers alike, transitioning other product packaging to a premium print has been a no-brainer.

"Viking food solutions was a delight to work with" says Damian, "in the future we will be recommending Viking to other food manufacturers that are looking for packaging solutions."

Our Packaging Team specialise in going from zero to hero with packaging solutions to best suit our customers' needs.

Whether you are just starting out in the food industry or are well-established, we'll take the time to work with you to find the best solution.