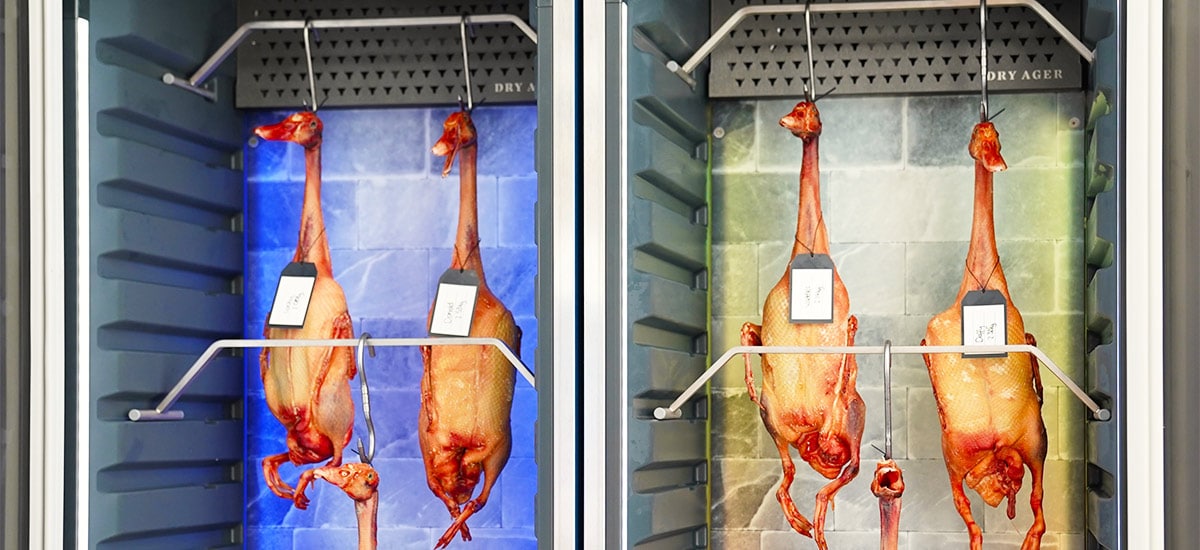 Muscovy Duck in the DRY AGER™ DX1000 Premium
Taking dry aging to new depths, the new trend in dry aging is duck – taking such a flavoursome ingredient to new depths, using the DRY AGER™ DX1000 Premium.
We've been receiving requests from customers on how to dry age duck, asking for recommendations and where to start – using 6 Whole Muscovy Ducks supplied by Golden Poultry, our trial begins.
Over the next ten days, we carefully monitored the protein, to note any changes that occurred. Our goal was to find out why Dry Aged duck is becoming so sort after, especially for gourmet Asian cuisine.
What does the dry aging process add to duck, in terms of taste and texture, to give it that incomparable appeal?
The Trial
We decided to age the duck for approximately ten days, for the best result.For simple record keeping, each duck was given a name to minimise confusion.
Just one day into the trial, we began to observe a distinct colour change in each duck, with some areas of its body beginning to blush red.
The rest of the skin instead went a slightly darker shade of orange, as the meat dehydrated and condensed.
As the ten days progressed, the skin began getting firmer and tighter. When we pulled the ducks out of the cabinet, the skin felt thick which made it perfect for achieving a beautiful, crispy outside while cooking (hungry yet?).
End Results
Below is a table showing each of our six ducks, and the weight they each lost during the ten-day dry aging process:
| | | |
| --- | --- | --- |
| NAME | START WEIGHT | END WEIGHT |
| Donald | 2.53kg | 2.38kg |
| Waddles | 2.14kg | 2.00kg |
| Daffy | 2.32kg | 2.23kg |
| Jemimah | 2.41kg | 2.30kg |
| Lucky | 2.08kg | 1.95kg |
| Puddly | 2.46kg | 2.27kg |
Cooking Duck
There are a hundred great ways to serve dry aged duck, and it can be used to elevate almost any dish. It can be prepared and cooked in the same way as regular duck meat.
A few of our staff members here at Dry Ager Australia, each took home a duck, to experiment with a few different ways of preparing and cooking our dry aged protein.
Oven cooked with an orange puree and basted with orange sauce
With fried rice
Oven cooked with a plum, cranberry, and mint sauce
Cooked in an Asian stir fry
Cooked in a spicy Indian duck curry
Pan cooked with seasonal vegetables
Each way of serving this duck offered a unique and tasty way to showcase its flavour.
What We Learned
What does Dry Aged duck taste like?
This question is as complex as the flavour of a dry aged duck. But, overall, the main things we noted were that Dry Aging duck enhances the taste and brings out added richness in the flavour.
The skin firming in the cabinet made it crisp up beautifully when cooked.
Absolutely! Duck is a staple ingredient for a lot of amazing Asian cuisine. If you love the taste of duck in any dish, the taste of Dry Aged duck will only improve that flavour.
What breed of duck is best for Dry Aging?
Speak to your local butcher and see what's available. It best to use a whole carcass if you can. You also want to make sure the breed you select has a high fat content. We used Muscovy ducks supplied by Golden Poultry in Albion VIC.